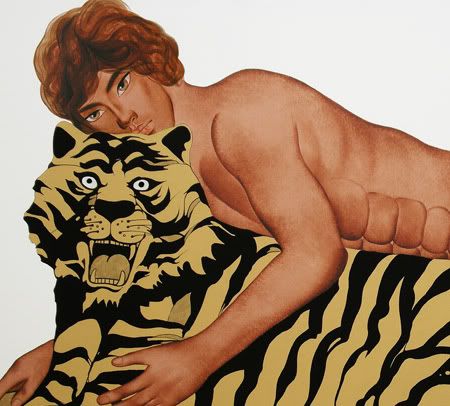 This is a story that attempts to reflect on the meaning of space and human beings invarious angles.Thirty-nine years seems a long time, but I somehow feel my youthhas just brush past me by like a stranger in the crowd.  My life, my days still move onslowly…slowly…..slowly…….These days, I constantly dream of a distant place…..a place I long to be, a place that envelopes me while I happily absorb the wideopen space that surrounds me. "Happyland" is about the strong disapproval andoffensiveness that dwells quietly inside of me.  It is about the need for self-expression.  It is also about freedom from society'srules and the status quo of the real world we live in.  It questions our existence  and the space we occupy.  That very space we express our innerself freely ----- does it truly exist?
Thaweesak Srithongdee was born in 1970 and graduated with a Master in Fine Art from Silapakorn University in 1996. His style echoes the influence of Surrealism and Pop Art. Thaweesak is a keen observer of people, their physical and mental characteristics. Using his imagination, in his work he goes on to ponder whether people's features are related to their behavior, culture, social standing and other aspects.  As viewers react differently to various symbols, he expects his audience to see his works in a variety of ways, using different interpretations, based on personal experiences. 

----------------------------------------------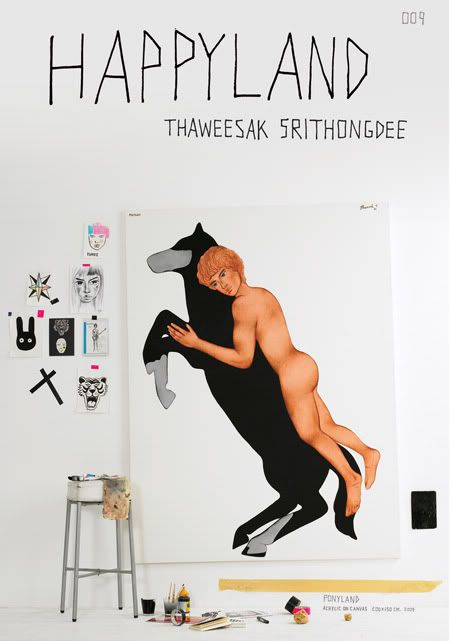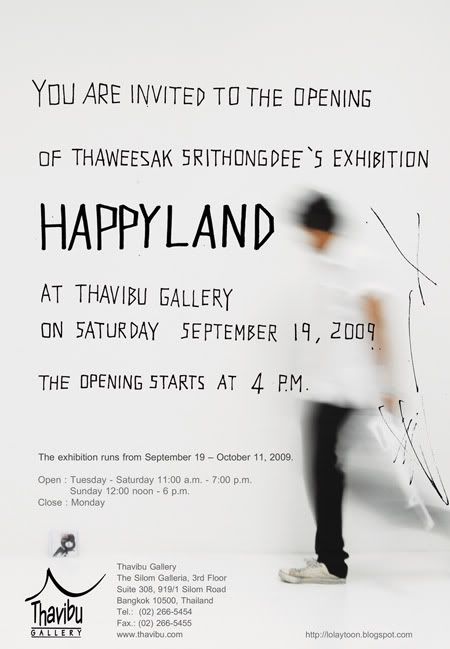 ---------------------------------------------- 
THAWEESAK SRITHONGDEE
Thaweesak has participated in several solo and group exhibitions abroad and in Thailand.  He was awarded a residency at the Fukuoka Asian Art Museum, Japan in 2005 and participated in the Fukuoka Triennale in the same year. He took part in the International Film Festival in Rotterdam 2008 in The Netherlands with a video comprising shots of iconic portraits. Recent works have also included mega size fiberglass sculptures of his characters.Museum collections holding his works include Singapore Art Museum and Fukuoka Asian Art Museum.
..................................................... 
The exhibition runs from September 19 – October 11, 2009.

Thavibu Gallery
The Silom Galleria, 3rd Floor
Suite 308, 919/1 Silom Road
Bangkok 10500, Thailand
Tel.:  (02) 266-5454
Fax.: (02) 266-5455
www.thavibu.com

Open : Tuesday - Saturday 11:00 a.m. - 7:00 p.m. 
           Sunday 12:00 noon - 6 p.m.
Close : Monday